Pathways World School Gurgaon
Flagship Campus of Pathways Schools.
Consistently Ranked #1 Top International Day cum Boarding School in Delhi & Gurgaon.
Welcome Letter
Education is not the learning of facts, but the training of the mind to think


- Albert Einstein
I am delighted to welcome your children to Pathways World School Gurgaon as they embark on an unmatched journey of education & exploration. I am hopeful that we can nurture our students enabling them to benefit from every drop of nectar from the hive of the well curated Pathways motto of "Learn.Work.Play.Think.LIVE."
In our endeavour to continue to take the Pathways legacy forward, we walk the talk by diligently adhering to the Pathways World School Learning Statement "Adapt – Adopt – Connect – Create". We believe that every student & every department in the school have their independent entity in contributing towards the smooth functioning of the institution. Therefore, to enhance our growth in the years ahead, Curriculum Framework, Student Residences, Human Resources & General Administration have been given strategic priorities.
A school with a futuristic vision & being the first IB continuum school in the country, we teach our students to live the attributes of the IB Learner Profile. At PWS, we don't teach about life, we teach to LIVE!
We urge you to support us in supporting the children so that together we can pave PATHWAYS for our children, who are the future of the world.
Warm Regards,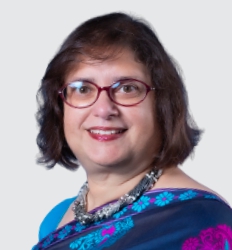 Ms. Sonya Ghandy Mehta
School Director, Pathways World School Gurgaon