Pathways World School Gurgaon
Flagship Campus of Pathways Schools.
Consistently Ranked #1 Top International Day cum Boarding School in Delhi & Gurgaon.
Head of Boarding & Student Enrichment
Welcome to Pathways World School Gurgaon, the residential school committed to meeting the needs of the children of today. Having grown up in a boarding school myself, I am a great believer in the merits of a residential education. The clichés of independence, empathy and compassion, enriched experiences, and a sense of discipline and what is wrong or right, are clichés for a reason – they are true.
There is an old proverb that says, "It takes an entire village to raise a child". The same could be said of a School. Be it Peers, Teachers, Pastoral Staff or Parents, we all have our unique roles to play in the growth of a child to his or her optimal potential. What is essential, however, is that we are all working towards the same end, trying to impart the same values in our own way, raising these children into the best examples of Ladies and Gentlemen.
Our endeavour at Pathways Residences is that children are not separated from their loved ones, rather are introduced to further extensions of their family. This is why, unlike other schools, all our emphasis is geared towards strengthening the emotional connect between students and their families. Daily phone calls, provision for flexible boarding options such as weekly boarding, and constant interaction between parents and the boarding staff are all geared towards creating a support system where the child avails of the best of both their family, as well as boarding life.
We measure our success in terms of Gross Residence Happiness, which can be achieved when boarders are able to realize their full potential – both as students and human beings, by nurturing a sense of belonging, balancing empowerment with compassion, and the ability to live harmoniously with nature and each other.
As a school, we are constantly strengthening and supplementing the array of measures available here to ensure an atmosphere that is conducive to the fulfilment of each child's true potential and aspiration. My team and I are always discussing ideas with all concerned to ensure that we are able to further enrich the Students' life in every aspect, be it co-curricular activities, sports, or fun ways to spend their leisure time. Consequently, the residential experience continues to grow from strength to strength.
The Pathways philosophy with its emphasis on internationalism, compassion, empathy and risk-taking, personifies the holistic approach to education required in today's world. Central to this philosophy is its belief that a school must do more than educate: it must inspire students with a desire to make a change and equip them with the skills and attitude to fulfil that desire. We at Pathways constantly strive to create young adults who can think beyond themselves, empathize with the not so privileged, and have the courage, imagination and skills to keep relearning in this ever-changing world.
We would love to hear from you. If you have any comments, queries or suggestions, please feel free to write to me at ashish.arora@pathways.in
I look forward to meeting with you.
Warm Regards,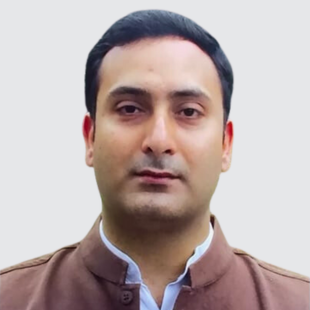 Mr. Ashish Arora
Head of Boarding & Student Enrichment