Pathways World School Gurgaon
Flagship Campus of Pathways Schools.
Consistently Ranked #1 Top International Day cum Boarding School in Delhi & Gurgaon.
Akshun Abhimanyu
From Biotechnology to Theatre and Dance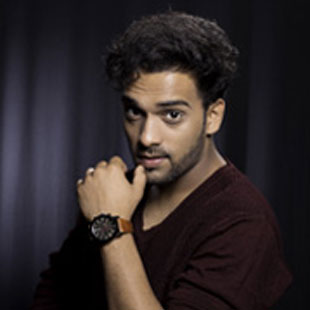 A mischievous child, Akshun had to be kept occupied after school in hobby classes like dancing and theatre. Fortunately, this created a spark of acting in him at an early age and he started working in educative street plays and performing theatre. His performance in Senior School's Annual Production in December 2010 "I, Van Gogh," as a lead actor, for which he received much critical acclaim, made his parents realizethat his acting skills were indeed good. Akshun graduated from Pathways World School in 2011.
Coming from a family of professionals, he was encouraged to complete his education. Along the way to his bachelor's degree in Biotechnology from Jacobs University in Germany, he dabbled in theatre and dance on the side. Eventually, he settled on acting and attended the New York Film Academy in Burbank, Calif., and trained for dancing at the Millennium Dance Complex in Los Angeles.
Akshun was not only good at theatre but was also a great football player at School and participated in a number of School Tournaments. He is now an Indian American actor/writer whose debut movie "Seven Rounds" based on the Kansas racial shootings is heading to be shown at the popular Cannes Film Festival. His new film showcases the heightened feelings of "fear and uncertainty".
Akshun Abhimanyu Interviewed by Pathways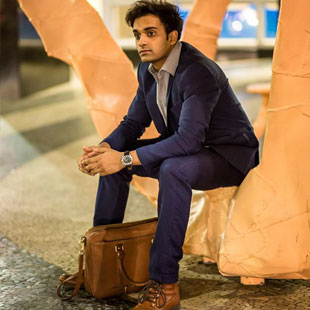 Q1. A note on your childhood.
Growing up in New Delhi, India, I was constantly overflowing with enthusiasm. It was difficult for teachers to keep me stationary throughout the duration of the class. I was also surrounded by intellectuals who devoted themselves towards making society a better place. My father being a Scientist (Microbiologist) at TERI, (India Habitat Centre) and mother being a Doctor, gynaecologist often landed me amidst activities in the scientific world, which was an amazing experience.

My mother believes strongly in developing both sides of the brain i.e. reasoning and creativity. She lucratively tackled my hyperactivity by enrolling me in "creative" classes at an early stage which kept me positively occupied after school in various extracurricular activities. I started learning dancing and theatre at the age of 9 and 11 respectively. I enjoyed my school and was involved in making various science projects and represented my School at a National Level. I devoted my free time to the Dance Room or Drama Room. My love for stage gave me an opportunity to perform in the School's Annual Productions over the years, the last one being "I Vangough" in 2010 in which I played the lead actor.
Q2. What inspired you to make 'Seven Rounds'? What is the message that you want to convey through this movie?
Living in LA, the United States for past 3 years, upon graduating with Bachelors in Biotechnology from Jacobs University in Germany, I was motivated to work towards a change and embark on my journey as an artist. I developed my acting and dancing skills at New York Film Academy & Millennium Dance Complex in Los Angeles.

I conceptualized the story of Seven Rounds by relating to various incidents that happened in early 2017 that led to the travel ban being imposed in the United States. This ban was subjected towards a few nationalities. The number of victims of hate crime was increasing and gun violence, in any case, has been a major issue in the United States. The incident in Kansas which involved shooting of the two Indian engineers really shook me. Thus, inspired from these issues, I chose to work on this subject and got my screenwriter and a good friend, Karthik Menon who also graduated from New York Film Academy to collaborate with me on the script for the movie.

My movie conveys the message of love and kindness towards all human beings equally and to not judge people based on their appearance or their nationality.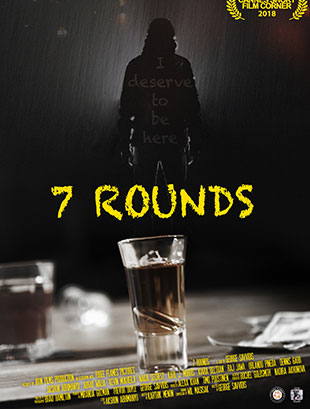 Q3. How hard was it to get started with the movie? What roadblocks did you face?
I strongly believe that working with your friends is always dynamic and exciting. I was fortunate to work with two of my close friends. Director, George Savviddis from Greece and Karthik Menon from Dubai, who came along as very important pieces of the puzzle to make this movie happen. We worked on this project as a team and set up "Three flames productions" based in Hollywood which helped bring a strong set of co-actors and crew members to work for the movie.

I had to avoid getting too personal with the story and focus on the role of being the lead actor, Ashok. Working with my co-actor and great friend Abhay Walia, helped in developing a strong bond between the two characters and showcase genuine friendship between two Indian guys living in the United States. We faced issues in casting initially, however, we ended up with an amazing set of Cast. Producers, Miranda Guzman and Trevor Doyle handled the production efficiently and helped the team reach the desired goals.
Q4. What films have been the most inspiring or influential to you and why?
I enjoy watching all genre of films. However, I personally feel influenced by movies directed by Mira Nair, Anurag Kashyap, Garth Davis, Aamir Khan and many others working towards bringing out genuine stories of the Society we live in.

The movies that have inspired me most are "The Reluctant Fundamentalist, The Namesake, and Water by Mira Nair". These movies have influenced my understanding towards film and media, which I believe, are the new age encyclopaedia and an effective resource to voice the issues of the society at a Global level.
Q5. Please tell us about your journey at Pathways World School Gurgaon. Which is your most special memory from school?
Pathways has been a key to my exploration towards my passion. My teachers and Dorm Parents have been instrumental in developing my soft skills and have been a part of my growing up. Living in the School Campus in Aravali, Gurgaon along with my amazing fellow Boarders, who became like a family to me, was an insightful experience. The School gave me amazing opportunities to discover my potential as an inquisitive individual. While studying my core subjects - Biology, Chemistry and Maths, I continued to remain involved in Theatre and Dance in School. Some of my friends, especially, Abhishek Chadda, Pronnoy Das and Jyotsna Chaman truly inspired me. I am fortunate to have had the best High School experience at Pathways World School and learnt a lot from my peers and teachers.

Performing in the play "I, Van Gogh", as a lead actor in the Senior School Annual Production in December 2010 was one of the most memorable experiences for me. The Play was a beautiful collaboration between the Visual Art and Drama Departments. The effort made by each individual to make that production successful taught me the importance of collaboration and teamwork. Our Drama Teacher, Mr. Renjith Janardhan, and Visual Arts Teacher, Mr. Ashwani Kumar played an important role in helping me find my potential and love for acting. The Show helped me overcome my stage fear and gave me immense confidence to act in front of an audience, which included my parents. The many opportunities that I have got in Pathways World School have helped me achieve my passion and into a confident individual to face greater challenges in life.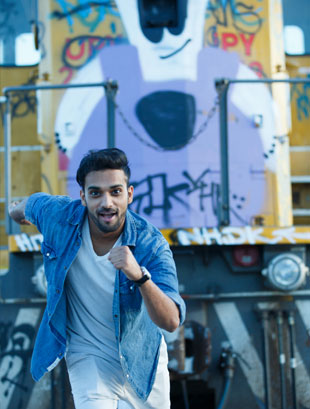 Q6. Any particular staff/teacher/mentor whom you would like to share about from your time at Pathways World School?
This is a difficult question. Many teachers influenced and guided my thought process while studying at Pathways World School, although some of them had a stronger impact towards my choices and supported my passion for dancing and acting. I was given undaunted support to balance my responsibility as a student in academics and to pursue my passion for the Performing Arts. I was mentored by teachers like Ms. Geeta Dahiya whose constant motivation fueled my passion and allowed me to think beyond achieving higher education. Ms. Kanan Sondhi, Ms. Mesha Das, Mr. Praveen Mariadas and Ms. Bhagirathy Jhingran helped me shape my vision and mentored me through my learning phase.

My Dorm Parents also played a key role in developing my personal skills and helping me become an independent individual in a global community. The importance of time and managing my schedule was strongly inculcated by their constant presence and perseverance.
Q7. Where do you see yourself 5 years from today? What is it that you'd like to aspire for and achieve?
I cannot tell about the future right now but I am positive that I will continue to make stories and work on movies that would help bring a change in the society. I am keen on gaining further experience in the field of performing arts and business entertainment. I have enjoyed my journey in this field since my schooling in Pathways as a student, researcher, and an artist. I would like to utilise all my experiences and eventually work towards bringing out stories from the grassroots level in my home country, India and around the world.

My aspiration is to manage productions and provide a platform to other talented artists and collaborators to voice their opinions about the mitigating issues in the society.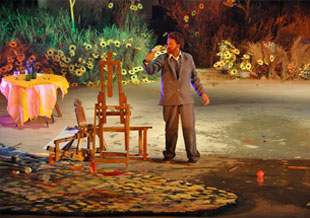 Q8. What message would you like to give to the young students at Pathways and especially those who are aspiring to go into a film career?
Aiming to work towards any field requires dedication and practice. Film and Performing Arts are strongly inclined to this concept. We all have our hidden creativities, it's important to start exploring and experimenting as soon as you get an opportunity. Also, opportunities can be created amongst your friends and peers and just involves a camera and motivation to tell meaningful stories. Join films, theatre or a dance club based on your choice and collaborate amongst others to achieve your specialised goal.

Watch movies, documentaries, TV shows and web series especially the ones that motivate you. Observe and use the resources that are available to you to tell your own stories. Learn to collaborate and work with a team as it will help you reach greater goals. Be passionate about your work and never stop hustling. Believe in yourself as it will motivate others to believe in YOU and your passion.