Pathways World School Gurgaon
Flagship Campus of Pathways Schools.
Consistently Ranked #1 Top International Day cum Boarding School in Delhi & Gurgaon.
Delson Armstrong
It wasn't until we had creative writing assignments in the fifth grade that I developed an interest in writing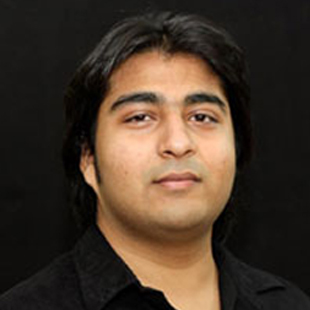 Delson Armstrong is the author of the Red Serpent series of books. His first book, and the first in the series, Red Serpent: The Falsifier, was published in 2010 and won the popular choice award for Best Vampire Fiction of 2010. Two months later, he published Red Serpent: The Prophet's Secrets, and in June of 2011, he published Red Serpent: The Elemental King. Delson is currently working on the next books in the series, while still pursuing a career in screenwriting. In early 2012, he signed on to write a screenplay adaptation of the bestseller, Besa by Louis Romano, and is currently at the helm of its production as an Executive Producer.
Delson attended Pathways World School Gurgaon from 2003 to 2006. We commend him on his achievements and wish him all the best for his future projects.
Delson Armstrong Interviewed by Pathways
Q1. A note on your childhood.
I spent the first five years in Bombay, then moved to New York. I remember, from early on, I loved to read, but it might have also been because the library I borrowed books from used to have special promotions in the summer, where for every 10 books you read, you received a free pizza! I loved movies as well, and every Friday, my family and I would go to the theater to catch the latest release. In 2003, I joined Pathways World School.
Q2. At what age did you develop an interest in writing?
It wasn't until we had creative writing assignments in the fifth grade that I developed an interest in writing, so much so that I began to write stories out of class, and admittedly got caught writing series of short stories in a science class instead of paying attention! Although, I was always a storyteller since kindergarten, narrating my days in school with certain "embellishments" to my parents, while on the way back home. You'd probably always see a mythical beast or two in my classroom, the way I told it.
Q3. At what point did you decide to take up writing professionally? Please describe your journey from a young schoolboy to becoming a published author at such a young age? How did you get hold of this opportunity?
I actually started writing my first book while still at Pathways (in my free time, of course). I was in the eighth grade, and I tinkered with an idea of an epic series of books for a long time, since the fifth grade, and began developing it. I knew writing was a passion of mine by then, but I never really looked at it as a career until my parents encouraged me to do so. Of course, the teachers in Pathways were always great supporters, and encouraged me both inside and outside of the classroom.
Notably, there was one teacher who really got me excited about the craft of storytelling. I remember him telling me, almost like some kind of prophet, "You have a lot of stories to write, a lot of movies to make, and some of them will be with me!" That really shifted my perception of what was possible. So, I decided to publish my first book, which opened me up to a lot of different people in the publishing industry. Later on, I went on to write screenplays and did some ghostwriting for a couple of studios both in India and the US as well. The road was long and challenging, but it has been fulfilling because I'm doing what I've always wanted.
Q4. You have tasted success very early in life. Your thoughts on this accomplishment.
I actually think there's a lot more I want to do before I can look back and say, "I've tasted success." I celebrate my accomplishments when they happen, but my mind's always thinking, "What next?" It's always looking for the next great story idea and developing it while I'm celebrating, and then the next day I get back to the keyboard and start tinkering with the idea.
Q5. What are your upcoming projects?
At the moment, I'm developing the next book in my series. I'm also developing a new series of books, the first of which I co-wrote with another alumnus of Pathways, Nikhil Lakhani. I finished a screenplay back in 2012, which we're currently trying to get financed and produced. I'm also in the inception stages of a few other film projects.
Q6. Where do you see yourself 5 years from today?
Doing the same thing I am now, albeit on a larger scale.
Q7. Please share your experience of your time spent at Pathways? Your most special memory at the school?
I was exposed to a whole host of different possibilities, and got a good foundation. My most cherished moments were those in silence. The Aravali campus instills a deep appreciation for silence and nature. I remember sitting at the amphitheater in deep reflection whenever I had the chance. I also loved the library, where I had access to some fine literature and knowledge. I also enjoyed the discussions outside of the classroom with friends and teachers on just about anything. In my mind, it was like being an ancient philosopher of Greece or Ancient India. I learned so much about life and gained access to various possible "pathways" (couldn't help the pun!) towards achievements in one's life.
When it comes to my most cherished memory, there really are too many to count, from the Shakespeare Festival back in 2003-04, to the camping trips, to those moments of immense silence and reflection, and the many philosophic sessions with my peers and teachers and so much more.
Q8. What message would you want to give to all our students and children in general?
Never give up on your goals or give in to second best. Everyone has a dream. Do it, no matter how hard it is. There's this saying that I try to always remember in the thick of apparent failure: "90% of people give up when they're 10% away from achieving their goals." I've also noticed that it's when you're very close to your goals that failures come at you from all directions. It's at that time you should know that you're on the right track. The clearing is just up ahead. So the question you have to ask yourself is, "do you want to be part of the 10%?"